ALPHARETTA, Ga. — Sitting in the Trader Golf teaching center, employee Rick Coursey defined golf's uniqueness — it's a competition more with oneself, rather than another person. And it's a game of a lifetime, suitable for any age, and a game of integrity.
Coursey wore a ball cap, hiding a balding head of white hair, and a Magellan fishing shirt tucked into a pair of polyester khakis. With a slow, measured voice, he shared his thoughts on golf and described the store's business model, which hinges on expertise and relationship-building.
"When we see somebody in here, and they don't know how to hold a golf club, we can give them a mini lesson," Coursey said. "They go from swinging a club, and can't even hit the ball, to three or four swings later — we have them hitting the ball straight right down the fairway, just by giving some very important tips."
Walking into Trader Golf, a small brick building with a worn metal roof, crooked golf posters tacked to its windows and racks of collared shirts behind them, visitors will most likely hear a friendly conversation between Coursey and a customer.
Maybe the conversation is about finding a specific used or new golf club, needing a repair or a club fitting. Talk could isolate on lessons to improve a golf game, taken in the shop's teaching center — a spacious, secluded room with netting covering the wall, marked with the brand Callaway, behind a green. Golf bags packed with clubs and training aids are off to the side. In the main area, Trader Golf also has a range in the left corner and a putting green to the right.
Or maybe Coursey's conversation is unrelated to golf, an exchange about personal matters. It's not uncommon for Coursey to ask returning customers about their family, knowing intimate details acquired over the years, or casually talk with someone new as if he's known them for a long time.
The relationships that can be forged, and that are essential, in small, local businesses are incomparable, Coursey said.
He isn't opposed to staying after hours to help someone. The night before, Coursey talked with a first-time customer, trying to accommodate a budget. That same customer, Coursey now knowing him by name, came back to snag what he didn't buy.
"He now trusts me because of things that I've told him and showed him, and the communication that I gave to him," Coursey said. "Now we've got a relationship."
Golf clubs abound
After handing over heavy- and light-weight training aids, Coursey said, "But the biggest tool is the knowledge that we have."
Trader Golf feels like an heirloom. It's a cozy space with a familiar smell, perhaps of a grandparent's living room, and it holds a wealth of experience, and plenty of stories, among its three employees. Coursey has been seeking to fill more positions for more than a year, but he has high standards.
"The years of knowledge that we have about golf — I would put it up against anybody, any place in America," Coursey said. "There's no doubt."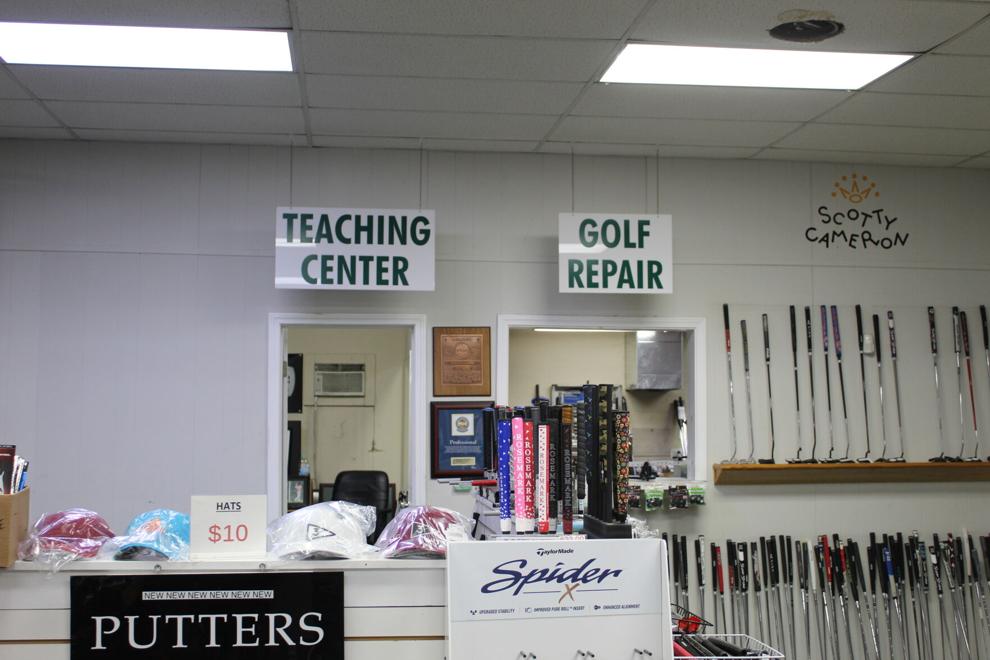 Coursey, who is somewhat of a store manager but cleans golf clubs with the rest of them, has been in the golf industry since 2000. He worked at Edwin Watts before Trader Golf and began playing the sport long before then, though, at age 26, through his father-in-law.
At one point, the store only sold used clubs. But when Coursey joined the business eight years ago, he introduced new merchandise, buying from manufacturers like Callaway, TaylorMade, Mizuno and Cobra.
Coursey, 59, has an impressive memory of the store's bursting inventory. Used clubs are well-organized in wooden racks along the right wall. New clubs in plastic wrap are lodged in a free-standing rack in the middle of the store. But there's also dozens of boxes in the back room.
"There's about 10,000 golf clubs behind this wall here," Coursey said from within the teaching center. "If a guy calls in and says, 'Hey, I need a 1984 Ping Eye 2 Square Groove Green Dot. Do you have one?' Yeah, I got four."
Unmatched knowledge
Robie Robinson was also on the floor Dec. 8. A 6-foot-something kind-hearted jokester, Robinson is a retired PGA professional of more than 40 years and gives private lessons at the store. Coursey was proud to point out Robinson's plaques on the wall.
"You'll get to see me take my PGA card and take the trash out to the dumpster as well," Robinson said in the backroom.
With no need for additional income and a passion for what he does, Robinson drives an hour and half one way for work. He, Coursey and Tom Reed, an employee absent on this particular humid Thursday morning, are all past the retirement age and continue to show up because they hang out, have fun and share their love for golf with whoever walks in the door.
Reed, who is in his early 80s, still plays golf twice a week. He used to work at Edwin Watts alongside Coursey, who said Reed has a repertoire and a grandfatherly way of talking to people who are uncomfortable with the sport.
"That's experience that you're not really going to get any other place," Coursey said.
Word of mouth
Coursey declines using advertisements because of a strong belief in spreading word the old-fashioned way. It also allows for a low-key atmosphere, preferred by the professionals who don't want to be bothered while shopping at Trader Golf.
The belief isn't unfounded. The golf shop might seem like Alpharetta's best kept secret since the mid-'90s. But at its 10 a.m. opening, customers were already there.
Coursey uses email blasts from time to time about Trader Golf deals for the shop's private consumer base, including prompts to forward the email. But outside of that, what keeps customers returning, and new ones coming in, is more of an organic transmission, based on reputation. All the Google reviews are positive, Coursey said, apart from one review caused by an employee who has since been fired.
Erin Fletcher, a frequent Trader Golf shopper, showed up Tuesday afternoon, Dec. 6, looking to price clubs he bought from the PGA superstore. He set several on the counter and swung one for practice.
"Hey, Erin," Coursey called from the opposite side of the store, while talking to another customer.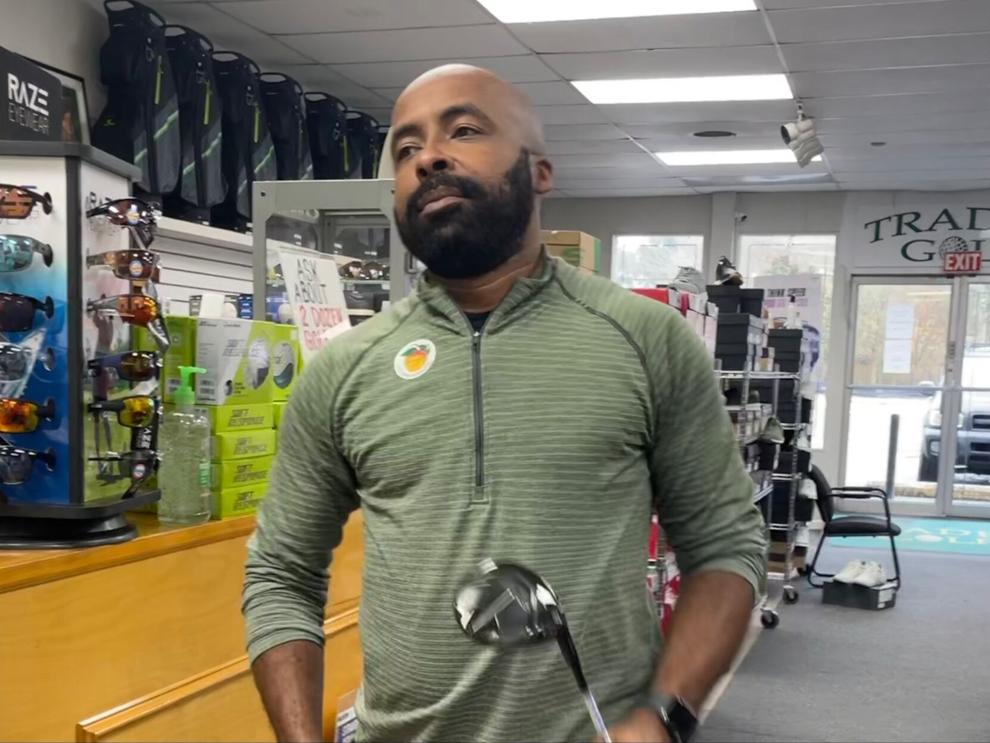 Fletcher, an easygoing 39-year-old with an athletic build, has been going to Trader Golf since 10th grade. He was driving around Alpharetta one day and stumbled across the store, before it moved to its current location on North Main Street. His hometown of Calhoun didn't have golf options at the time.
Fletcher said he likes everything in his golf bag nowadays, which he's been building for 25 years, save for the occasional trade. But he still makes the trip from Milton at least twice a week to the shop to hang out and buy knickknacks.
Bigger stores tend to pay bottom dollar for products, Fletcher said, but with Trader Golf, the relationship is clean. When Fletcher was in the store Tuesday, Coursey was transparent in telling him he would get a better deal selling his clubs on eBay than he would selling them at the store.
"[Honesty] is basically dead," Fletcher said. "There's a way we can all be equitable, and everybody can win in whatever we do. But most people don't live or have that philosophy."