Some fighters let their fists do the talking.
In Artur Beterbiev's case, their message would be clear. Be afraid. With a 100 per cent knockout ratio, an unbeaten record and three world title belts, he is possibly the scariest man in the boxing world today.
Beterbiev, born in Khasavyurt in Russia but based Montreal, is undefeated in his 18 pro bouts and the unified WBO, WBC and IBF light-heavyweight champion.
Most impressive has been the style of his victories. He has won all 18 of those fights inside the distance, typically with crushing knockouts.
Beterbiev has stopped every single one of his opponents so far

In his last fight he took out Joe Smith in just two rounds to add the WBO championship to his collection.
The next man to tackle the fearsome Beterbiev will be London's Anthony Yarde, who challenges for his unified championship on Saturday night at Wembley Arena.
Yarde previously fought for a world title when he lost to Sergey Kovalev in Russia in 2019. Lyndon Arthur has also outpointed Yarde on a split decision but the Londoner impressively avenged that loss when he halted Arthur in 2021.
Yarde is still a significant underdog against Beterbiev, but the champion is 38-years-old. This might just be the perfect time for Yarde to get his shot.
Beterbiev remained enigmatic when he spoke to Sky Sports.
"It's boxing. In boxing you don't know what's going to happen there. We will try to be ready for anything. We'll see what happens. I'm interested too what's going to happen," Beterbiev told Sky Sports.
"As my opponent, [Yarde] is good. He is strong. He has good experience in professional boxing and he's had good fights. I'm preparing 100 per cent, I'll be ready 100 per cent for this fight."
Beterbiev had to negotiate a deep cut caused by a clash of heads but found an explosive finish to stop Marcus Browne in round nine

Beterbiev does not only bring raw punching power. He boxes with destructive, heavy hands but harnesses that with formidable boxing skill. The unified champion is relaxed, though, as to whether those abilities go under-appreciated.
"Watching me, they have to decide that. If they think I'm just power, no problem, or if they think I'm not a bad technical boxer," he shrugged. "I have in my mind what I need to have.
"I'm not thinking about it. I just try to do my work."
Yarde for his part has no fear going into this bout.
"He's a human being. I've been face to face with a lot more intimidating people in my life. He's a normal human being," he told Sky Sports.
"If I'm looking at his boxing career he's been punch perfect so far. But it's just another man standing in front of me."
The Londoner is determined to rise to the occasion.
"Beterbiev will bring out the best in me because of the level of opposition that he is. And he's got something that I need, that I want, that I'm actually going to have. And that's three of the belts in the light-heavyweight division," Yarde said.
Dan Azeez tells us what it is like sparring with Beterbiev and recalls some amusing tales from the experience

Victory, as his promoter Frank Warren points out, would make Yarde "a serious player" in British and world boxing.
"On paper right now, he has the most impressive record. He's got the most belts. When I beat someone like that then I have to be spoken about as that person, if I beat that person," Yarde said.
"I have in my mind how I'm going to approach the fight," the challenger added. "It's a brutal game of chess. Every move you make, you've got to capitalise on the moves they make.
"It's the most thoughtful sport in the world in my opinion. It's a physical and thoughtful and brutal sport… It's beautiful."
Beterbiev vs … Usyk?
The last time Beterbiev boxed in London was a decade ago in the 91kgs quarter-final of the 2012 Olympic Games.
He lost that bout to Oleksandr Usyk, the Ukrainian who became the undisputed cruiserweight champion as a professional and is the reigning unified WBO, WBA and IBF heavyweight titlist now after beating Anthony Joshua twice.
Would Beterbiev be interested in moving up in weight and renewing hostilities with Usyk?
"No problem," he said with a smile. "If you organise.
"He's successful. He did a good job," he noted of the Ukrainian. "He's a good fighter and he did a good job. I'm not really interested [in his career]. I'm not following Usyk or someone else."
An appealing option would also be the undisputed championship fight with Dmitry Bivol at light-heavyweight.
"I could move up, it's interesting but another champion is good too," Beterbiev said. "I try to be ready for everything. If it comes, we will try to do it."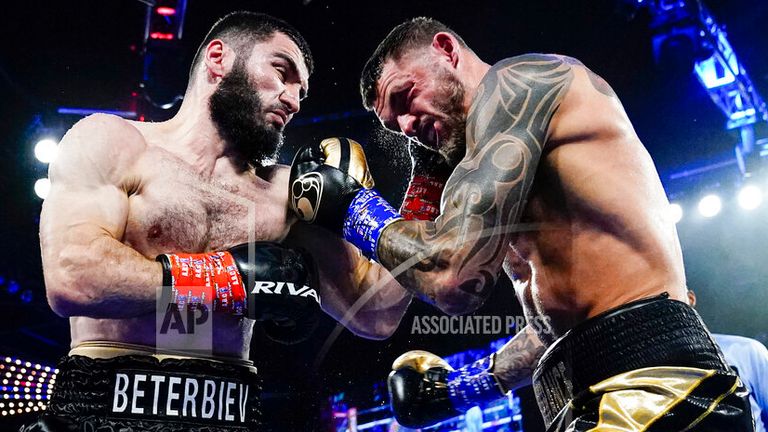 Callum Smith is well-placed to fight the winner as the mandatory WBC challenger, plus another London light-heavy, Joshua Buatsi is gunning for his shot at world honours.
"If our man comes through, then he's in a tremendous position," Frank Warren, Yarde's promoter, said. "Then there are a lot of options. There's some great domestic fights that can be made as well as some other fights around the world.
"[The Buatsi fight,] I haven't got a problem with it at all. I think it's a good fight and it's a fight that everyone would buy into. There's no doubt about that.
"There's a few fights. But let's get the title first."